Will you join us in making the Vieux Presbytère greener?
…
---
…
Dear guest,
We are pleased to welcome you to the Auberge, Le Vieux Presbytère.  The original priest's house (the Presbytère) was renovated extensively in
1880 after a severe storm. In those days, although recycling and re-using was a necessity of everyday life, sources of energy were plentiful and very
reasonably  priced according to today's standards. People worried most about staying warm and not freezing in the harsh winters.
Since taking ownership of this historic site in 2005 Ann and Raymond have worked hard to make the inn as green as we can, striving to make as small a carbon footprint as possible. We have improved the insulation, erected solar panels to assist with hot water heating, replaced energy wasting lighting systems, switched  to eco-friendly cleaning products, to name a few.
…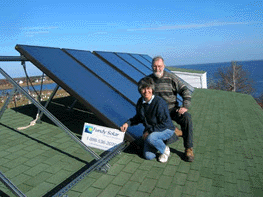 …
---
…
We are counting on you to join us in making our inn as
green as possible. Here are a few ways you could help:
  * In each room we have placed a recycling bin. Please use it for cans, bottles, newspapers, clean hard plastic packaging and all those tourist
brochures that you no longer need.
 * For those guests staying with us more than one night we would be pleased to change your towels daily if you so desire. Simply place your used
towels in the bathtub.  If, however, your towels are fine for another day, please hang them up on the rack.
 * If your bed sheets are not in need of being changed, please place the card that we have provided on the bed as you leave for the day's adventures.
 * We are committed to making you as comfortable as possible at the Vieux Presbytère. We suggest that as you leave your room that you turn off
all unnecessary lights and reduce heat or air conditioning a few degrees.
 * We have been working hard to imagine ways to reduce our impact on the environment.  If you have an idea that might help us do a
better job, please fill in the card provided and deposit it at the front desk. We are always open to suggestions.
 The earth thanks you and so do we.
 Raymond Drennan and Ann Vickers
Owners, The Vieux Presbytère de Bouctouche
…
---